We Love: Travel Plus Style
Monica Mei: Luiza and Daniel, I love your travel magazine - you both have a discerning eye! As a fashion designer (of the world's first reversible resort wear) and travel blogger, I definitely can appreciate your sense of style. Tell me more about yourselves.
Daniel and Luiza:  We are both originally from Poland but have been "expats" for over 15 years. Our education and working background are in the creative fields, and this informs our travel style and taste. We love photographing and writing about the romance of travel. TravelPlusStyle.com was born from many experiences from which we learned that the hotels can make or break the trip. We also wanted to share our experiences and adventures from the places we visit.
Monica Mei:  There's definitely romance in travel. Where do you wanderlust?
Daniel and Luiza: 
We
travel
few times a year and always try to pick destinations we haven't seen yet. The best of those are places that invoke an emotional response, which have a strong sense of history or of a great natural beauty. That said, some of our favourite spots are exotic beach destinations away from the crowds. 
Monica Mei:  True, exotic beach escapes can be the most relaxing. Where in the world did you get your best sleep? Why?
Daniel and Luiza: We have been lucky to stay at many beautiful hotels that come with very luxurious guest accommodation—the sleep is always great in those—but perhaps surprisingly, one of the best sleeps ever was on a temporary bed made up on the roof of a chalet in the Namib Desert. It was near Sossusvlei in Namibia, at the Little Kulala lodge. The staff set up everything together with candles and champagne, and we had only stars above and complete silence. It was simple and luxurious in equal measure. Needless to say, we didn't get to enjoy the stars for too long. We fell asleep almost immediately. 
Monica Mei:
Love that. Simple and luxury are my favourite words. Describe for me your
travel
style
. 
Daniel and Luiza: Always independent, never with group tours. We pay a great deal of attention to what we want to see and experience. We always tailor it to our particular taste, so many a time it would be away from the big touristy sites. And we book hotels individually. It takes time and effort but where we sleep is important. The hotels we stay always have something special to them, be it design, location or activities on offer. 
Monica Mei: Now, talking about style, Luiza always looks great. Tell me, carry-on only or over-packer? 
Daniel and Luiza: 
It depends on the type of trip. The key is to prepare well. For example, for an African Safari where we'd
travel
on small three-seater planes, we only take soft bags (e.g. Filson). When the trip involves lots of hotels (like in a recent island hopping in Maldives) we try to limit the number of bags. Less to worry about. For anything else it's gonna be two carry-ons and a large hold suitcase. 
Monica Mei: What is your airport fashion stye?
Daniel and Luiza: Smart casual-ish. Let's just say we are of the opinion that you don't have to look like you just left the gym in order to be comfortable. What we keep in mind is the time. We always make sure we have no belts that could beep or that we have to take off, no difficult-to-tie shoes, and not too many layers. This makes going through the airport security as quick and efficient as possible.
Monica Mei: As a fashion designer, I couldn't agree more! I'm not a fan of the athleisure trend (unless I'm home or at the gym, of course!). It's true. A swift, effortless style to pass through security with ease is always in fashion. I rather leave room in my suitcase to bring home treasures. What is your fave memento from your travels? 
Daniel and Luiza: Our photos!
Monica Mei:  And gorgeous they are. What do you like to buy as a keepsake?
Daniel and Luiza: Something that reminds us of the visited place and looks good in the apartment.
Monica Mei: My favourite type of souvenir as well. My home in Toronto is filled with tchotchkes. What are you crossing off your bucket list this year?
Daniel and Luiza: We will be travelling to China and Tibet quite soon. We have a lot of plans for the rest of the year but they are not set in stone yet.
Monica Mei:
Your prediction for the next
travel
hotspot?
Daniel and Luiza: Popping on our radar are Bhutan and Mongolia, as well as Madagascar and Gabon, which will soon welcome the first truly luxurious resorts. Cuba and Iran also draw a lot of attention, but in both of these, the discerning traveller will have to wait until the luxury hotel chains start opening their first resorts. 
Monica Mei: Amazing! Can't wait to see your gorg photography! 
We are partnering with Daniel and Luiza of TravelPlusStyle.com. Make sure to follow them on Instagram, Facebook and Twitter to watch out for the below photo of our reversible Audrey Travel Scarf for a special discount code and gift with purchase!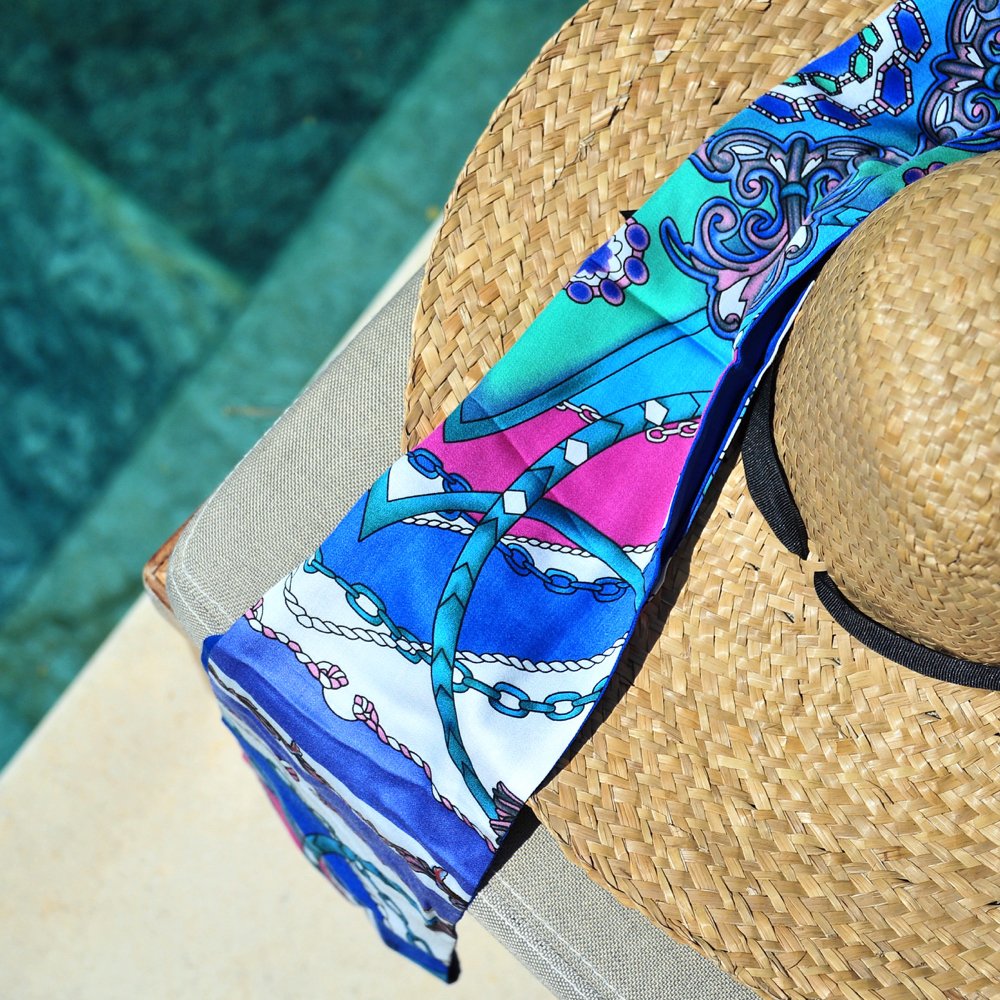 Photo Credit: TravelPlusStyle.com
What to Wear Where
Be like Luiza of TravelPlusStyle.com and ready to jaunt to fabulous escapes on a moment's notice! As an expat living in Paris, I think she'll look chic in our reversible 
Deneuve
 Trench Dress - go from airport to resort with ease.
Want to experience more of the world, stylishly curated?
Like The Wanderlusteur on Facebook
to feed your wanderlust. 
Also,
s
ubscribe
for exclusive offers, popular posts, and
receive a free city guide (
*
indicates required):
---
---